April 8th, 2022
Thank you to the buyer from Poughkeepsie, NY!


January 22nd, 2022
Congratulations to DOUGLAS FROMM for winning Third Prize in the CUT AND PASTE COLLAGE CONTEST!

Douglas Fromm is a self taught artist who started his career designing concert posters and record album covers for San Francisco rock bands. He is a Signature Member of the National Collage Society (USA), and has had work selected by juries to be exhibited in 6 National Collage Shows (2009-2013, 2016).... One of his works ( shown on FAA as 'An Artist Contemplates Good and Evil' ) is part of the National Collage Teaching Collection at Kent State University, Ohio.
January 22nd, 2022
Anita Barnard's "House of Hope and Striving" won Second Prize in our CUT AND PASTE COLLAGE contest! Her handcut collage, composed of found, painted and created papers, handwritten letters and vintage text, is a tribute to the life and talent of painter Vincent van Gogh.

Visit her gallery to see more of her fine work!
January 22nd, 2022
Congratulations to Terri Price! She is an American born artist raised in the mountains of wild and wonderful southern West Virginia.
Today she lives and paints in the gleaming light and earthy pigments of the south of France where, using brilliant and dazzling colors and a playful style, she tries to create a more joyful reality, a momentary sanctuary from our more subdued lives.
She is inspired by all manner of things: light, shapes, forms and, of course, color.
In her Gallery you will find hand painted pieces, digitally created works and mixed-media, and she hopes one of them will raise a smile.
Her work has been exhibited in Tavira, Portugal, in Marseille, France and Palm Beach, Florida, and has been featured in 4 issues of Paris Lit Up, a magazine publication dedicated to the Arts, and in Art Ascent Magazine.
January 14th, 2022
Congratulations to Stawek Aniol, a landscape architect, photographer and painter currently based in Warsaw, Poland, for his image "Etam, Richmond VA."


January 14th, 2022
Congratulations to IRYNA GOODALL, a Ukrainian artist and photographer, for her striking image GELIEBTE CLARA which won second prize in the Street Art Contest. I encourage you to click on the link to appreciate the photograph with a like, follow, and/or.

You can follow her here:

https://www.instagram.com/iryna_goodall_art_photography/

hyyps://www.facebook.com/goodallphoto/

https://twitter.com/IrinaBurkova


January 14th, 2022
Congratulations to Elvira Peretsman for her image "Street Art in Metz," a work of amazing skill captured for the ages.

You can follow Elvira on:
Website: https://www.elviraperetsman.com/
Facebook: https://www.facebook.com/elviraperetsmanphotography/
Instagram: https://www.instagram.com/elviraperetsmanphotography/
January 4th, 2022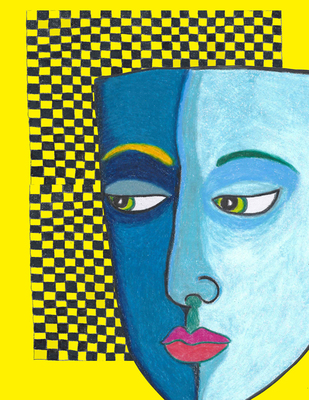 Well, here I am again. Once you start a blog you have to keep going, don't you? Here is one of several colored pencil collages I've done, with a bit of Photoshop yellow in the checkerboard.
As a writer, a poet who used to give public readings all over the Bay Area, and an artist, I know about masks (writers call it "persona").

In our day to day lives, we almost never see the real person we are talking to right in front of us, much less the performer on stage, the personality, the living legends that populate our cultural imagination.

In fact, we almost never see the reality of the person that gazes back at us in the mirror. We see a construction, created by our own mind, and that depends on a long list of hidden prejudices, beliefs, peer pressures, moods and experiences. It's impossible to untangle!

So we see a mask, and are content.

And that shouldn't bother us. The real thing we assume is behind the mask is a complicated mess, a time consuming distraction, an endless pit of complexes and untoward secrets. We don't want to deal with that in the moment, or ever. We choose to believe that the mask we are seeing is the real thing, and leave it at that.









January 4th, 2022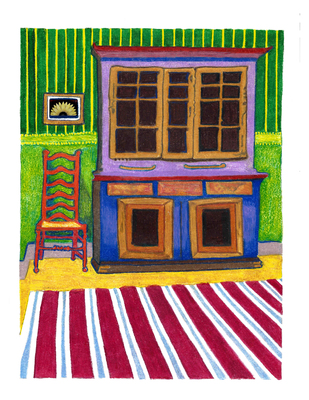 Welcome to my art gallery and blog, Nooks and Granny! I am the artist and it's true, I'm almost always making a mess. I'll show you pictures of it along the way.

Above is a colored pencil drawing of my parlor, where I receive guests, one at a time. If they are very old, I let them sit in that red chair while I fetch them tea. If they are young, I sit in the chair and ask them to bring me tea.

I prefer Earl Grey before noon, or chai. In the afternoon I prefer something less anxiety provoking, like chamomile or blueberry. Crumpets are nice, but I don't make them like I used to, or at all.

You can purchase this image in many sizes and formats in my Finearts store.

December 25th, 2021
Read something last night that said we (Americans) are not as uneasy with Covid as we are with uncertainty, and that sounded right. Our parents and grandparents lived in a world that to many, appeared more stable and predictable. So we artists reacted to that mindset, even as mistaken as it was, in all our individual ways. But what and how will our art reflect this new landscape, where uncertainty and threat are real and present in our very lives? We hope for a better New Year. 2021, here's your hat -- what's your hurry?